Accommodation
The Elephant Camp's suites display their own unique elegance, with a picturesque view spilling before them. Each tent adorns a spacious deck, a private plunge pool and an outside shower, all of which are ideal locations for relaxation and appreciation of the surrounding landscape.
Even the bath offers an unparalleled view of the horizon. The rooms have been deliberately sculpted to celebrate the openness of the African bush, and there is an easy flow from the bathroom to bedroom to private lounging area that spreads onto the spacious deck through glass French doors.
The stylish furnishing and décor has been specifically selected to capture the beauty of the natural environment, retaining the authenticity of the African wilderness.
Luxury Tented Suites
The suites are equipped with air conditioners and ceiling fans, which are a welcome comfort after a day spent under the blazing African sun. There is a tea and coffee station as well as a well-stocked mini bar, both of which are replenished daily.
All suites are gorge facing, and during sunrise and sunset, the cloud of mist that hangs over the rainforest is illuminated by an array of deep colours that merge between red and orange.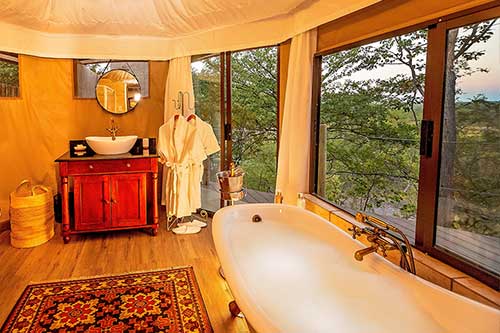 Traditional Safari Ambience
While remaining mindful of the environment, The Elephant Camp strives to provide impeccable luxury accommodation and service in arguably the most beautiful location on earth.
The décor evokes a traditional safari ambience with rich colours, wooden artefacts and an open-air design.
During the rainy season when the Zambezi is at peak capacity, guests are lulled to sleep by the "Smoke That Thunders" as the river gushes over the side of the cavernous gorge. This therapeutic and natural ambience is accentuated by the calls of a diverse population of bird life that nest around the camp.
All-Inclusive Activities
The Elephant Camp offers a variety of exciting activities that unfold within the boundaries of the untamed African bush for guests to explore at no additional cost.
Community & Conservation
The Elephant Camp emerges from the plains of incredible natural wonder, where lives a diverse species of plants and animals that generously allow us to immerse ourselves in the raw beauty of their home.
Cuisine
Our chefs are dedicated to creating a fine dining experience that can be equated to Africa on a plate. The flavour of each dish is enriched using fresh seasonal ingredients and herbs grown in the camps gardens.
Specials
Unbeatable Fully Inclusive Offers, Luxurious Accommodation
The Amazing Victoria Falls
Game drives & River Safaris in the Zambezi National Park