To arrive as guests an depart as friends is at the very core of our service philosophy… This means developing a relationship with the guests and thereby an understanding of their expectations and needs and then knowing how to meet and exceed those needs and expectations.
We create truly meaningful and bespoke moments for our guests.
Brad and Annie White
General Managers
Brad and Annie White joined the Wild Horizons team in 2012. However, Brad's relationship with the bush extends far further back, he was born and raised in Victoria Falls. Together, he and Annie…
Read More
have spent nine years sculpting a successful career in the hospitality tourism industry. Their journey has taken them through South African game lodges and hotels, to prestigious lodge's in Botswana's Okavango Delta before Victoria Falls beckoned them back.
They initially managed the Imbabala Safari Lodge for Wild Horizons, before settling at The Elephant Camp, which Brad has described as "home away from home". Annie has an impressive background in hospitality and holds several beauty therapy qualifications. This dynamic couple run the camp with the respect and care it deserves, with the help of a passionate and devoted team.
Himal Nathoo
Manager
Himal's relationship with the bush stems from a long history of exploring the many wonders Africa has to offer. Himal studied management and hospitality and as soon as he was qualified, he returned to the…
Read More
banks of the Zambezi River as a fishing guide at Imbabala Safari Lodge. His natural ease in a safari setting accompanied by his people skills earned him the position of manager at Imbabala, and eventually, Elephant Camp West. Himal is pursuing a passion that was cultivated at a young age, and is devoted to the work he does. After years in the industry, his favourite past times still include casting a line into the water on a still day, or exploring the exquisite environment that he is fortunate enough to call is office.
Hilda Ncube
Assistant Manager
Hilda began her journey in the tourism industry in 2004 as the Catering Manager of Fuller Forest in Victoria Falls. Since then, her career has taken her to Hwange National Park, the Zambezi National Park and…
Read More
to the beautiful Sabi Sands. However, her roots remained in Victoria Falls, and she joined The Elephant Camp team in 2012, where her passion for service and hospitality is finding expression in her role as a general manager. Hilda is a welcoming, genuine, warm soul, and she makes a room feel brighter with her cheerful presence alone. Her passion for taking care of people, helping local communities and protecting the natural environment embodies The Elephant Camp's purpose and values, creating a loyal and loving culture where guests' comfort and experience is paramount. With her bubbly and creative personality, it is no surprise that Hilda's other passions include cake decorating! A birthday at The Elephant Camp never goes by without a slice of her deliciously colourful cakes.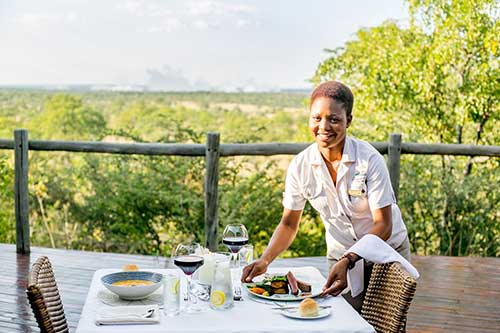 Our Activities
The location of Elephant Camp so close to Victoria Falls Town offers guests the chance to do any activities that are available in Victoria Falls with total ease.
Community and Conservation
We have borrowed this land from the elephant, impala, birds and buffalo and we are dedicated to treading as lightly as possible on their beautiful patch of earth.