Activities in Victoria Falls
Situated twenty minutes out of town, The Elephant Camp gives guests the opportunity to explore Victoria Falls on their own terms. However, there are a variety of exciting activities that unfold within the boundaries of the untamed African bush for guests to explore at no additional cost.
The Elephant Camp ensures an authentic African adventure.
Visiting the Victoria Falls Wildlife Trust.
We work to preserve and protect elephant in the wild through collaboration with the Victoria Falls Wildlife Trust. The Victoria Falls Wildlife Trust (VFTW) is based adjacent to The Elephant Camp and a visit to the trust is included in our guest experience.
A Village Tour.
Guests will be transferred to a rural village where they will see local villagers going about their daily tasks and interact with them. The tour enables them to see rural Zimbabwean life first hand.
Optional Extra Activities
For the guests that are in search of that extra dose of adrenalin, or are looking to reach further corners of this unique place, the town itself is bursting with activities that can be easily arranged at an additional cost by the camp. To find out more, follow the links provided.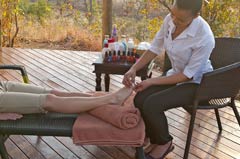 Selected Spa Treatments
A selection of spa treatments are available on request and delivered by a professional beauty therapist in the privacy of your suite.
---
Chobe Day Trip
Chobe National Park is well known for its large herds of elephant that frequent the Chobe River on a daily basis.
---
Game Drives
During a game drive, guests may see the 'Big 5' along with a great variety of antelope and exceptional bird­‐life. Open four­‐wheel drive vehicles will take you on a safari along the shores of a scenic lake and through basalt plains into teak forests. The Victoria Falls Private Game Reserve offers a great opportunity to see the rare and endangered Black Rhino.
---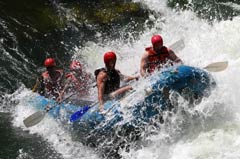 White Water Rafting
The wildest white water in the world, White Water Rafting on the Zambezi River is an adrenaline rush not to be missed.
---
Vic Falls Canopy Tour
The Victoria Falls Canopy Tour offers a network of slides, trails and rope bridge walkways within the canopy of the hardwood forest of the Zambezi gorges.
---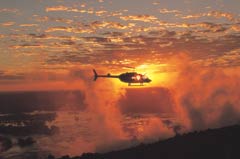 Scenic Helicopter Flights
The spectacular helicopter flight over the Victoria Falls is known as the 'Flight of Angels'.
---
Upper Zambezi Canoeing is an unforgettable experience and offers fantastic bird and game viewing. Experience game viewing from a whole new perspective, while paddling along on the Grade 1 & 2 rapids within the Upper Zambezi River on our inflatable two-man canoes. No previous experience is required, as this is novice canoeing.
---
At The Elephant Camp, guests can appreciate the serenity and tranquillity of the African bush, yet remain in close range to the variety of attractions and activities that the town has to offer.
Contact Us